All SMS Gateway will help you to send SMS through HTTP-SMPP Protocol and also helps to turn your Android device into an SMS gateway so that you can send and receive SMS. There has an Android app by which you can easily connect your Android device to web server and check all received and sent SMS.
Also, you can synchronize mobile numbers with web server just by one click. All SMS Gateway has an API module that will help you to integrate it into any other programming languages. This system also help you to generate and validate OTP (one time password).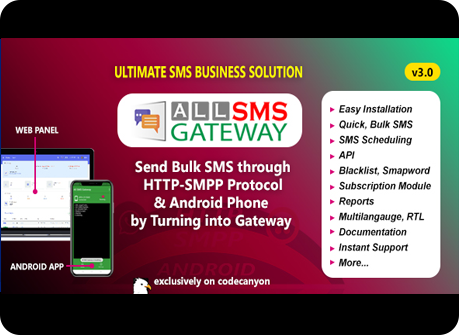 LMS Pro is an all-in-one full featured academy learning management system (LMS) develop with PHP MVC framework that covers everything!
This LMS system is very easy to use by Admin, Students and Instructors. Instructors can create course for free and earn revenue from the students. Admin will get a percentage from Instructor per sale basis on each course.
Students can pay via various payment gateways to enroll a course. There is also possible to offer a free course.
Core Features: Intuitive Course Builder, Unlimited Lessons & ...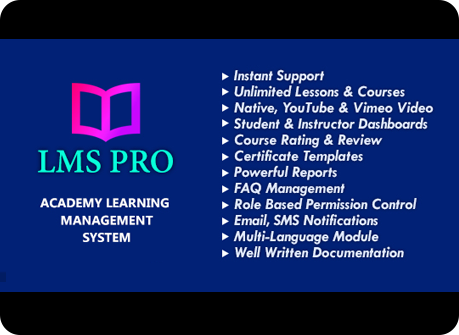 Popular

All SMS Gateway - Send Bulk SMS through HTTP-SMPP Protocol & Android Phone by Turning into Gateway. Know More →
Why Choose
Ntechpark Technologies
There are hundreds of reasons to choose us. And here we cite some key reasons among them. We assure you that you will never regret purchasing Ntechpark Technologies products. Ntechpark Technologies, your trusted partner, will be with you in any situation.
One-Time Payment
We only take a single payment. That is, you have to pay one time for a product. Pay once and use for a lifetime. Besides, all products have built-in FREE support for 6 months.
Quality Products
Qualities of all products are measured and tested by a team of highly experienced professionals as well as novice customers. Anything you buy from us comes with the best quality.
100% Secure Payment
We guarantee heightened security as well as provide the most advanced encrypted system. Checkout will redirect you to FastSpring's secure payment interface. Confidential data is encrypted and transmitted.
Well Organized Code
Our code is open to customize to meet your needs. We write clean codes following all coding standards. Commenting on the script to increase code readability is always a key concern to us.
Effortless updates
You will continue getting product updates. Update is FREE and always will be FREE. Most of our products have auto update feature that is as hassle-free as clicking a button.
Fast and Friendly Support
Support is the category for which we get the most appreciation from buyers. A dedicated support team is ready to solve any emerging issue.